Event details
Date
Time
Duration
18th November 2020
11am (12pm CET)
60mins
Sponsored by:
About this webinar:
In the rush to migrate to Microsoft Office 365, and its well-known benefits, many organisations are failing to consider the cyber security implications of such a move – as evidenced by a US Department of Homeland Security report on this very issue in April 2020.
The speed of O365 deployment means security configurations often fall short and features are left unused. In many cases, organisations assume optimum security performance out of the box, while in others the hasty shift to remote working has meant IT teams have been preoccupied with simply making sure the solutions are up and running.
This webinar, and accompanying research, will reveal what more organisations should be doing to ensure their O365 deployments are properly configured and that they're making the most of the built-in security features on offer.
We'll also cover how even those businesses with proper cyber awareness training, and endpoint and gateway security in place, should be doing more to ensure cyber hygiene, as we discuss Microsoft's own recommendation for using a third-party Domain-based Message Authentication, Reporting and Conformance (DMARC) provider. Thereby allowing receivers to verify incoming email through SPF and DKIM.
Panel
Stuart Sumner
Editorial Director, Enterprise IT
View Bio
Stuart Sumner is Editorial Director of Incisive Media's technology-focused titles: Computing and Delta. He oversees all content across print, web, tablet editions, rich media and events - including the IT Leaders' Dining Club and Computing Summits. During Stuart's tenure Computing has transformed from a print-reliant business to a bleeding edge multi-channel brand with an industry-leading events portfolio. Previously he spent 10 years as a programme manager in the IT industry, working for companies such as the BBC, COLT, Nortel Networks and Equant. As a journalist he has also worked for Time Out and IPC Media. He is a regular technology pundit and contributor to the BBC News Channel, as well as a published author.
Andrew Hobbs
Content Strategist & Research Analyst, Enterprise Technology
View Bio
Andrew is an enterprise technology writer, editor, publisher, strategist and consultant; illuminating digital transformation in the connected world and educating businesses on the opportunities and challenges presented by cloud and edge computing, the Internet of Things, automation, AI, and Big Data. He is a former Editor and Publisher of Internet of Business and now oversees Incisive Works' enterprise technology thought-leadership content creation, including multimedia digital experiences, whitepapers, webinars, videos, and podcasts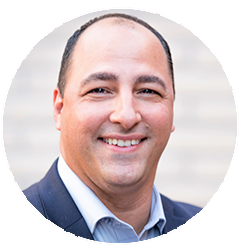 J. Peter Bruzzese
Microsoft MVP (Office Servers and Services), Mimecast
View Bio
J. Peter Bruzzese, Microsoft MVP (Office Servers and Services with a focus on Exchange/Office 365), is an internationally published technical author with over a dozen book titles to his credit. In addition, he's a journalist with a decade at the helm of the Enterprise Windows column for InfoWorld, now serving as Senior Editor for Conversational Geek. He speaks globally for Microsoft and others primarily about security and cyber resiliency with Office 365. Last, but not least, he's a strategic technical consultant with Mimecast.